What kind of decaf have morning media pundits been drinking for the past year? Why are they acting like they awoke in a stupor this morning in the wake of that presser at Trump Tower yesterday? How did they not know that this is who Donald Trump is and that he is not going to change? On "Morning Joe" someone even used the word "mourning." Really? How is it that you all failed to predict this?
Why is this a question?
This time last year Andrea Mitchell was obsessed with Hillary's emails and coughing spells. She was not alone. They all were!  Maybe that is why they missed Hillary's speech in Reno on August 25, 2016 when she issued a strong warning about what Trump was doing and what his presidency would look like.
From the start, Donald Trump has built his campaign on prejudice and paranoia. He is taking hate groups mainstream and helping a radical fringe take over the Republican party. His disregard for the values that make our country great is profoundly dangerous.

SNIP

Trump's lack of knowledge or experience or solutions would be bad enough. But what he's doing here is more sinister. Trump is reinforcing harmful stereotypes and offering a dog whistle to his most hateful supporters.

It's a disturbing preview of what kind of President he'd be.

And that's what I want to make clear today: A man with a long history of racial discrimination, who traffics in dark conspiracy theories drawn from the pages of supermarket tabloids and the far, dark reaches of the internet, should never run our government or command our military. Ask yourself, if he doesn't respect all Americans, how can he serve all Americans?

Now, I know that some people still want to give Trump the benefit of the doubt. They hope that he will eventually reinvent himself – that there's a kinder, gentler, more responsible Donald Trump waiting in the wings somewhere.

Because after all, it's hard to believe anyone – let alone a nominee for president – could really believe all the things he says.

But here's the hard truth, there is no other Donald Trump. This is it.

And Maya Angelou, a great American who I admire very much, she once said: 'When someone shows you who they are, believe them the first time.' Well, throughout his career and this campaign, Donald Trump has shown us exactly who he is. And I think we should believe him.
She went on to enumerate instances when the Department of Justice filed charges of discrimination against Trump and remarks he made on the campaign trail regarding a variety of minority groups. She warned.
This is someone who retweets white supremacists online, like the user who goes by the name 'white-genocide-TM.' Trump took this fringe bigot with a few dozen followers and spread his message to 11 million people.

His campaign famously posted an anti-Semitic image – a Star of David imposed over a sea of dollar bills – that first appeared on white supremacist websites.

The Trump campaign has also selected a prominent white nationalist leader as a delegate in California. And they only dropped him under pressure.

When asked in a nationally televised interview whether he would disavow the support of David Duke, a former grand wizard of the Ku Klux Klan, Trump wouldn't do it. Only later, again under mounting pressure, did he backtrack.

And when Trump was asked about anti-Semitic slurs and death threats coming from his supporters, he refused to condemn them.

Through it all, he has continued pushing discredited conspiracy theories with racist undertones.

You remember, he said that thousands of American Muslims in New Jersey cheered the 9/11 attacks. They didn't.
Yesterday, Trump told the press and the American people that there were people "very quietly" protesting the removal of a statue. That did not happen, either. He told us he saw things that we did not, and at one point he told us what we know and what we think.
If the pundits had listened to Hillary instead of worrying about her cough which turned out to be pneumonia, perhaps they would not be so stunned and astounded today.  Perhaps they might have worried more about Trump's mental status than about Hillary's temporary, curable cough.
The last thing we need in the Situation Room is a loose cannon who can't tell the difference, or doesn't care to, between fact and fiction, and who buys so easily into racially-tinged rumors. Someone so detached from reality should never be in charge of making decisions that are as real as they come.

That is yet another reason why Donald Trump is simply temperamentally unfit to be President of the United States.

Now, I hear and I read some people who are saying that his bluster and bigotry is just over-heated campaign rhetoric – an outrageous person saying outrageous things for attention. But look at his policies. The ones that Trump has proposed, they would put prejudice into practice.

SNIP

the Southern Poverty Law Center, which tracks hate groups, Breitbart embraces 'ideas on the extremist fringe of the conservative right.' This is not conservatism as we have known it, this is not Republicanism as we have known it. These are racist ideas. Race-baiting ideas. Anti-Muslim, anti-Immigrant, anti-women –– all key tenets making up an emerging racist ideology known as the 'Alt-Right.'

Now, Alt-Right is short for 'Alternative Right.' The Wall Street Journal describes it as a loose, but organized movement, mostly online, that 'rejects mainstream conservatism, promotes nationalism and views immigration and multiculturalism as threats to white identity.'

So the de facto merger between Breitbart and the Trump Campaign represents a landmark achievement for this group. A fringe element has effectively taken over the Republican Party.

SNIP

On David Duke's radio show the other day, the mood was jubilant. 'We appear to have taken over the Republican Party,' one white supremacist said. Duke laughed. 'No, there's still more work to do,' he replied.

So no one should have any illusions about what's really going on here. The names may have changed. Racists now call themselves 'racialists.' White supremacists now call themselves 'white nationalists.' The paranoid fringe now calls itself 'alt-right.' But the hate burns just as bright.

And now Trump is trying to rebrand himself as well. But don't be fooled.

There's an old Mexican proverb that says 'Tell me with whom you walk, and I will tell you who you are.'

But we know who Trump is. A few words on a teleprompter won't change that.

He says he wants to 'make America great again,' but more and more it seems as though his real message seems to be 'Make America hate again.'

And this isn't just about one election. It's about who we are as a nation. It's about the kind of example we want to set for our children and grandchildren.

Next time you see Trump rant on television, think about all the children listening across America. Kids hear a lot more than we think.
Another year of school is starting and parents have to worry about how safe it is for their kids to listen to the president speak! Teachers are unsure as to how they can approach a current events unit.
This morning many media pundits seemed to be suffering that post-adrenaline hangover we all feel after a shock. If they had listened to Hillary last year they might not have been so surprised. In fact, perhaps they would not have been complicit in drowning out her message and her substantial plans to improve everybody's shot at the American Dream. Instead, they ignored those policy speeches. They are shocked. Shocked. That a POTUS would defend Nazis and the KKK.  Are they woke now? The jury is out.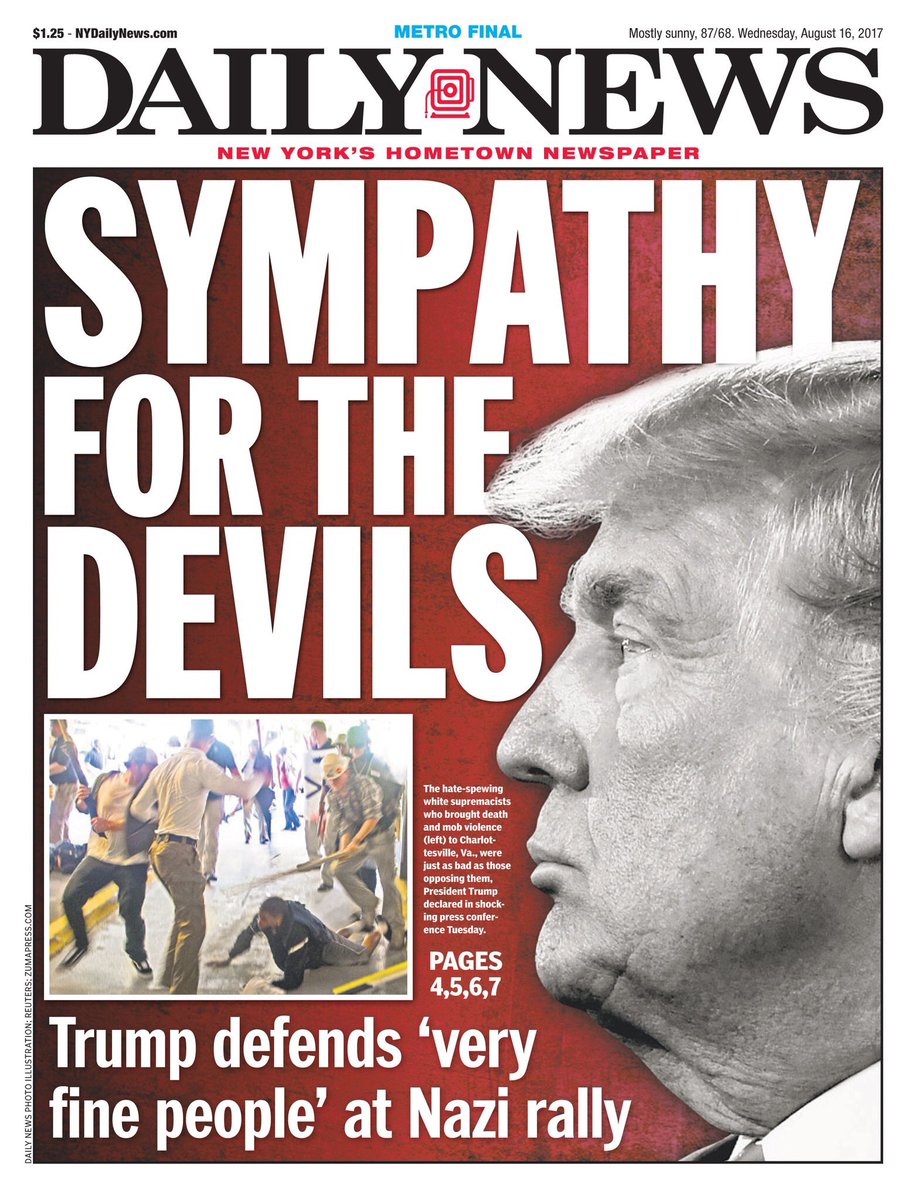 You can read Hillary's entire Reno speech here >>>>